Welcome to Elwood Golf Links
A new chapter to the Elwood Golf Links occurred on June 22, 2019 with the re-opening of the original nine holes, making Elwood Golf Links once again, 18 holes of golf!
We know that many of the citizens of Elwood and surrounding communities are very excited to have 18 holes of golf back in Elwood!
The golf course represents a vital historical component to the City of Elwood, dating back to 1924.
As people drive to the City (off State Road 37 and on State Road 13) the original nine presents a wonderful first impression to the City as visitors and others drive past this beautiful piece of property.
Sponsorships are now available as well for 2021!
We have a variety of ways your business/organization can become involved and show support to the City of Elwood's golf course through annual sponsorships!
Please contact Director of Golf, Jake Hopkins at jhopkins@cohoatandoneal.com or call Jake at the golf shop at 765.552.0665 between the hours of 9am and 5pm to inquire about a Season Pass or Sponsorship for 2022.
See you at the Elwood Golf Links!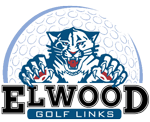 Managed and Operated by Cohoat and O'Neal Management Corp.